Nugget Watch '07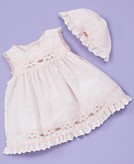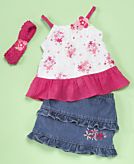 In exactly one week, we will find out the sex of the Nugget, also known as Nephnie. I want a girl, Youngest and Baby Daddy want a boy. Which I don't get. They have only known girls growing up. Youngest has me and the LLS and BD only has sisters too. Maybe they want a change, or maybe it's easier to raise boys. I don't know.
I still want a girl. But it will be a boy.
Look at the cuteness she could wear. And girls don't pee on you.